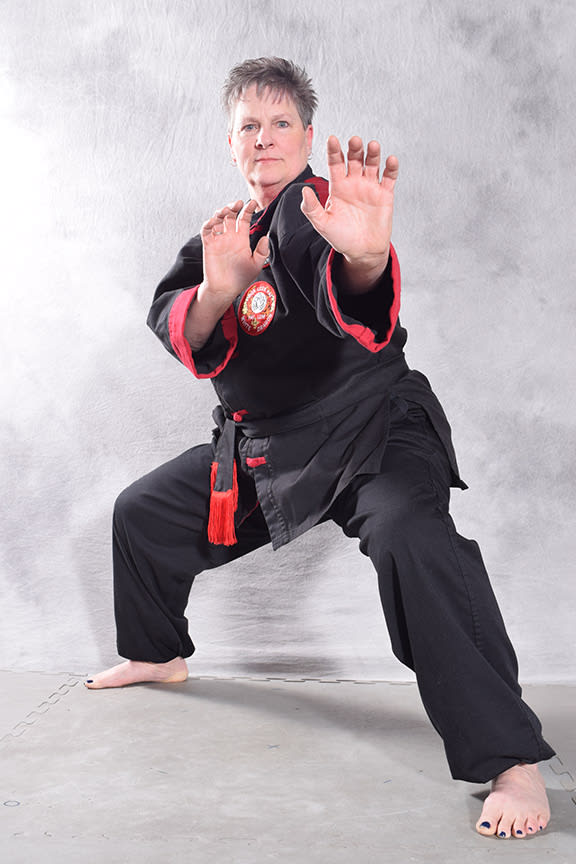 Sensei Sifu Sharyl Geisert
Sensei/Sifu Sharyl Geisert, is the chief instructor at White Tiger Karate, a child development center, teaching SKILLZ, Pai Lum kung fu, and Karate. She has been educating children for the past 40 years and enjoys it just as much now as she did when she started. Her unique blend of life experiences has given her an ability to reach many diverse individuals by serving her community in positions of recreation therapist, teacher, coach, fire fighter/EMT, and youth care specialist. She has a Bachelor of Arts in Physical Education and Health and a Masters of Science in Recreation and Leisure with Therapeutic Recreation as her specialty. She is the area leader in child development including specialties in autism, ADHD, ADD, behavioral issues, anger management, and physical adaptations. Sensei Sharyl is happy to have a partnership with outstanding professional groups in the medical field including Health First Family Care Center, Genesis Behavioral Health, and Spaulding Youth Center.
Sensei Sharyl began training in the martial arts in the early 1980's. Since then she has studied various martial arts styles such as Kung Fu, Karate, Jiu Jitsu, Kempo, Kenpo, Krav Maga, Muay Thai, and Tai Kwon Do and holds various ranks in each. Sensei Sharyl focuses primarily on teaching SKILLZ, Pai Lum Kung fu, and Karate while sharing some skills from the many other arts she still studies and enjoys. Sensei Sharyl was certified by AWSDA as a rape prevention instructor and continues to train and teach in personal self-defense.
Sensei Sharyl joined the world renowned SKILLZ® team and teaches this superior program in the WTK children's martial arts classes. The SKILLZ curriculum is infused with the latest in child psychology and development. Sensei Sharyl, all instructors, including the STORM team, have weekly, monthly, and annual training in child development through this amazing program. By understanding the levels of development in each age group our children's program at White Tiger Karate is a child development course.
Sensei teaches the importance of giving back to the community by donating free classes in martial arts and women's self-defense and donates thousands of dollars to families in need through various fundraisers. She was chosen as "One of the top women you should know in NH" for her outstanding commitment to the safety and well-being of her community and was chosen as "Woman of Achievement", from the Business and Professional Women's Club. White Tiger Karate has received several awards as a top school for the past 20 years.